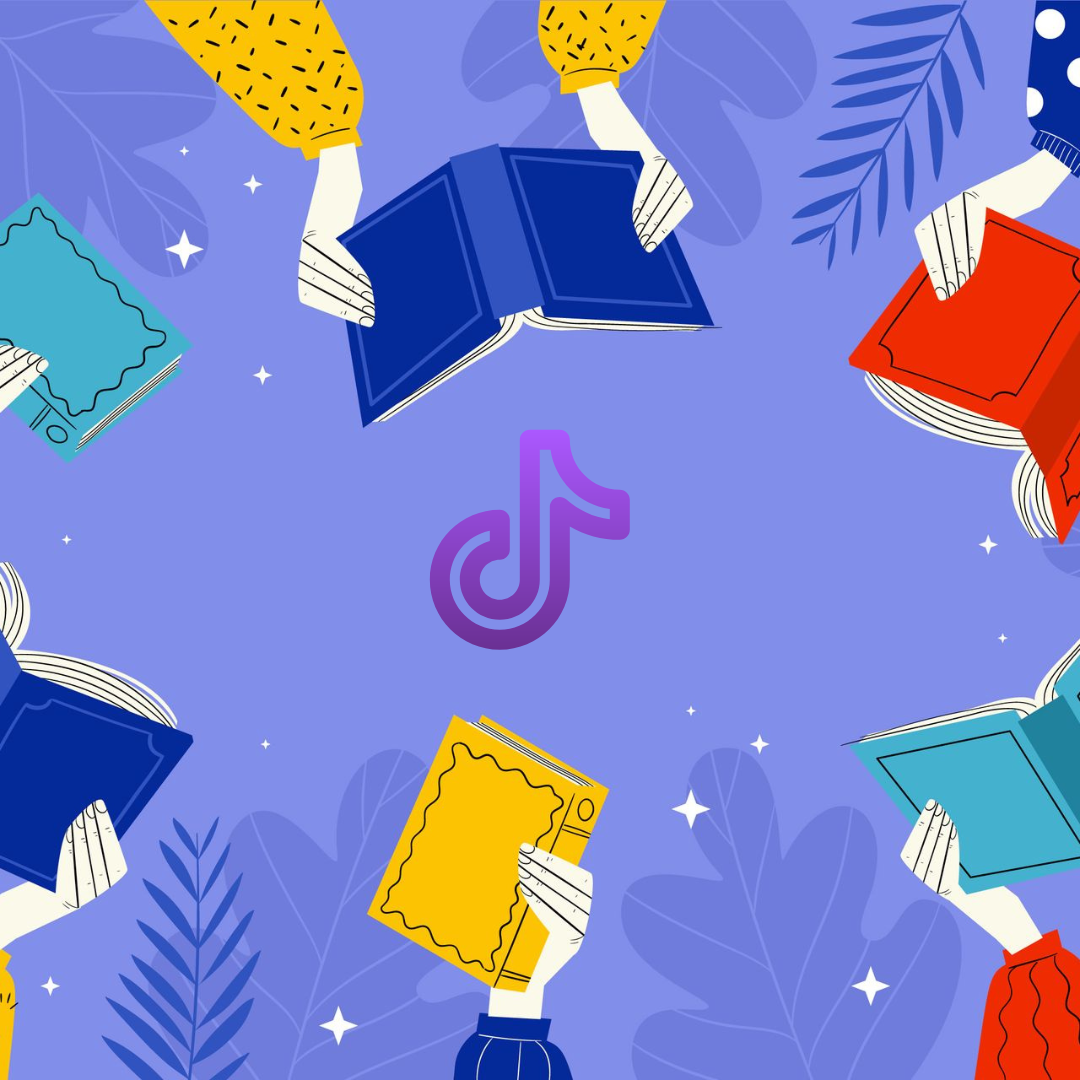 What Is BookTok?
BookTok is a community of people who share their love for books on TikTok. They share videos of recent reads, trends surrounding books and even authors sharing their recent publications to reach the right audiences.
BookTok works brilliantly for finding the audience for the right kind of videos as its algorithm is a fast learner. The more interaction a user has with a certain type of video, the more it will bring up similar styles, and topics, and in the case of BookTok, more books.
The curation of content on TikTok is infinite and this grants more specific content for niche audiences. It's due to this fact that so many users find this social media an addictive platform because it is moulded around all their interests and acts as a tool for learning and seeking information. Video consumption is an easy, enjoyable and effective form to use in marketing.
Before BookTok, came Bookstagram, and before that BookTube. All of these social media platforms built communities for literary lovers and gained followers who take on recommendations. The knock-on effect this had on businesses was positive too, users would watch these videos then go and purchase in bookstores or on Amazon. Amazon even has a BookTok page now for all the trending reads found on TikTok.
Digital Marketing on TikTok
TikTok has been a hugely successful digital marketing opportunity for many pop culture trends, publishing strategies and has also brought a resurgence of trends back.
Digital Marketing has been a great tool for encouraging people to read more too, with easier access to recommendations and a community of people sharing similar interests.
TikTok as a tool, is successful for companies wanting to advertise and as it's a free platform, it can be used to reach the right kind of audience, without the need for paid ads.
A Tale of an Author and Their Resurgence
If you haven't heard of Colleen Hoover and her book It Ends With Us then perhaps you aren't on BookTok, or you aren't an avid reader. Hoover published this novel in 2016, and while it was successful in its first month of publication, after a few months, sales started dropping.
It Ends With Us started spiking in sales again in 2020 and by the summer of 2021, a surge for the novel brought sales up! Everyone on BookTok was talking about Hoover's book that had been around for five years.
It is probably no surprise that during the Covid lockdown period, people rediscovered reading and TikTok itself saw a rise in users. With the hashtag #BookTok trending, users could discover people's book recommendations, recent book hauls, and videos on 'if you liked this book, you'll loved these too'. Hoover's book got swept up into the resurgence of reading and before she knew it, influencers were reading it and that only spiked sales more.
It Ends With Us is now in the works for a film, and it's all because of TikTok.
Genres and Audience Type
There is definitely a larger community of younger adults sharing and interacting with certain types of books on BookTok. Genres like Fantasy, Romance and Young Adult (YA) are the more popular on social media.
However, there is a corner of BookTok for everyone looking to find something that suits their interests. Classics, Horror, Mythology, Poetry, Cookbooks, Graphic Novels. A simple search will bring up hundreds of videos of other book lovers sharing their literary recommendations.
'BookTok Books' Marketing
Bookstores have always advertised their books in sections, under categories and genres. So when BookTok brought more people into stores, marketing teams realised that they needed to get on board with this too.
These days, when you walk into your local Waterstones, there will most likely be a table of 'Books Seen on TikTok' or 'BookTok Made Me Buy It' signs. This will draw people in the direction they originally discovered their next read. It's smart and effective, to get on the same level as these young adults and engage with them more.
It can also make people feel more included in the latest trends and find friends who have read the same books as them. Publishers and their marketing strategies are learning from TikTok.
Are There Any Negatives to BookTok?
Inevitably, yes. TikTok, like any social media, can very easily be used as a persuasive tool. Like many things seen online, things can be glamorised and romanticised.
If young adults read a popular book that had lots of great reviews, but they didn't enjoy it themselves, it could make them feel out of place and like they don't fit in. As with any mainstream trend, there will be lots of people who don't hop on the bandwagon.
As has been seen with Colleen Hoover's novel, she received backlash for glamorising a toxic and abusive relationship between her characters. Many young people read this book and were encouraged to like it when really it could be teaching something harmful that easily-influenced, new readers overlook.
Trendy books on TikTok are more likely going to be 'easy reads' and therefore accessible to new readers, less avid readers, or young people. Because of this, readers can fall into a rabbit hole of reading books that, while enjoyable, could be limiting in the long run.
Research would be the best way around this. Finding and reading a wide range of books to learn, test and encourage reading about a wide range of topics, themes and genres. TikTok is never short of recommendations and comparisons.
However, BookTok is a great community of people all wanting to read and learn and reading is a healthy habit and hobby to invest in.
Author Recognition and Reshaping Publishing
If you're a new author, then having a TikTok wouldn't be a bad idea. Promoting new authors on social media is perhaps the easiest way to gain recognition and increase sales. Tailoring your videos towards a particular audience based on the category your book fits into, will certainly show a difference.
BookTok can lead to more followers, more discussion, more shares, and more visibility. TikTok has had this effect on artists recently, bringing talented people into the spotlight to gain recognition.
For musicians and songwriters, they have been able to build their careers from sharing their music, artists have gained sales from sharing their artwork and small businesses reach people they perhaps wouldn't any other way with this digital marketing strategy. Making and sharing videos on BookTok is reshaping the publishing industry and marketing strategies altogether.
Chameleon Marketing Strategies
Looking to get your business out there and recognised? Chameleon can help you with a marketing plan and advise you on the steps to succeeding with sales and advertising.
Much can be learnt from social media and TikTok about algorithms, trends and popular ways to gain recognition. Start your journey with us and see how your business shines with new marketing strategies and rebranding.
It's nearly Christmas! And the Grinch is here to share his story with his guide to customer retention for your business. Read on to learn more!
01 Dec 2023