Chameleon has been a market leader in setting up and maintaining Google Ads accounts for hundreds of clients over the space of 20 years, and we pride ourselves on keeping up with the ever-changing landscape to bring you the best in what Google Ads can do for your business. Whether its increasing brand awareness, expanding your customer base or improving your website traffic, Google Ads is the perfect online advertising platform to do just that, and we have the expertise to guide you through it!
Google Ads Campaigns created for over 100 companies worldwide
Google Ads Campaigns created for over 100 companies worldwide
Why choose Chameleon as your Google Ads Manager?
Chameleon have been providing cost-effective marketing solutions to customers for over 20 years, and the business and team have never been stronger! With our specialisms lying in Google Ads, Search Engine Optimisation, Website Design and Management, Social Media Management, Content Writing, and Email Marketing, we are the agency that does it all, but without compromising on quality. When we manage your Google Ads account, we use our SEO expertise to create landing pages that work together to offer tailored traffic and results for your business.
Our Paid Advertising Process
How do we successfully manage your Google Ads?
Google Ads can be a minefield, and if you don't know what you're doing, you could be spending more money than you need to, especially if you're first-time user. So why not use our years of expertise and professional team to create and manage your ads for you? To provide you with the top results, we work to an effective process and can get you the results you deserve in a matter of weeks.
New to Google Ads? Already have an account but need some help with polishing your ads? We can create an account for you from scratch, or use your already created ads account to fully optimise your campaigns.
02. Set Up Campaigns & Ads
The next step we take is creating campaigns and ads that encapsulate your business and desired goals. We like to do this with you to not only offer full transparency, but you enhance your knowledge as well. Understanding each other is very important in this industry, and we want you to be happy with ad copy and conversions we will set up for you.
One of the main aspects of setting up Google Ads is getting the correct tracking of conversions. It's all well and good people clicking on your ad, but is that click converting? With our knowledge of conversion tracking, we can recommend suggestions we think would benefit your business and use Google Analytics to show where customers are going when landing on your website.
Once we are both happy with ad copy, keywords, budget, and conversion set-up, we are ready to launch your ads. The benefit of using Google Ads is that the results will be automatic, and the higher your budget, means the more people your ad will get in front of.
In the first initial couple of weeks, we measure and track how well your ads are doing in a time period we call 'Phase 1.' We do this as it allows us see which aspects of the campaign are working well, and which aren't working as expected. It's important to understand what your audience is searching for and which ads they prefer, as this will aid us in moving forward with the creation and amendments of your ads.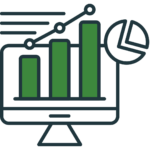 One of the main aspects of our Google Ads solution is the management of your ads and ensuring they are running and optimised fully is part of our process. We check your ads account regularly to ensure you are getting the right amounts of impressions and clicks for your budget, and we will constantly amend and update keywords to put your ads in front of the ideal customers.
Get ahead of your competitors.
Utilising Google Ads guarantees you get a step ahead of your competitors and will start seeing immediate results.
With low cost per click rates, you can benefit from a cost effective advertising solution that will increase your ROI whilst keeping marketing costs low.
Powerful Advertising Tool
An added benefit of using Google Ads is the instant increase in traffic you will see to your website. What does more traffic bring? More opportunities for successful customer retention and conversions. Simple as that.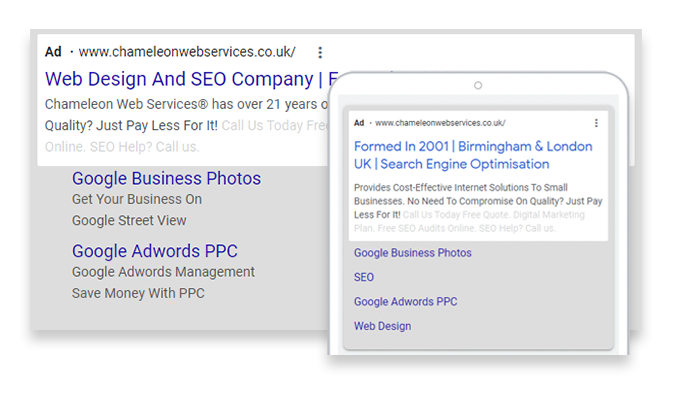 Had a bad experience of Google Ads in the past?
Without the proper setup and management, Google Ads can be confusing and unsuccessful. But when you choose Chameleon to help run your Google Ads, we promise to share our knowledge and produce great results in a short amount of time. And no worries if you already have an account. We use this historical data to help us tailor your ads and learn what works and what doesn't.
Frequently Asked Questions
Google Ads is an online advertising platform that enables businesses to get their services, products and brand in front of millions of prospective customers.
You can choose how much you ideally want to spend on a daily budget, however the recommended amount is between £10-£15 (depending on size of businesses and ideal reach.)
With Google Ads, you will benefit from being seen by thousands of potential customers within minutes of setting your ads live. You can also set your own conversions and goals which can be monitored directly from your account. Another main benefit is that it is a cost-effective alternative that enables you to pause and resume at your own convenience, without losing any of the important data.
Chameleon have been trained in using Google Ads since it's inception in 2000, and over the years have developed a specialised service that provides the best results for your business. Our expertise enables us to create optimal campaigns to capture your business needs and ideal customers.
Google Ads is an ideal advertising solution for a wide range of businesses, and you can benefit from its usage regardless of size or industry you are in. If you have any questions about whether Google Ads would be the right solution for you, we can help you in your decision and can offer alternative marketing solutions that may suit you better. We do everything inhouse, so get in touch for more information about Google Ads and our other solutions to help yourself and your business.
Ready to start a Google Ads Campaign?