ChainFree came to us after their director had worked with us already on a few other marketing projects and small amounts of design work. They saw some of our existing website designs and when it was time to set up a new company, Chain Free Property Buyers, they came straight to us.
The project was simple. They needed an approachable, friendly looking brand and website, to make a daunting task a little less intimidating. They wanted the process to be extremely easy for the user, so that they could convert sales from what was going to be quite an expensive Ad Campaign, due to the nature of the business being in property.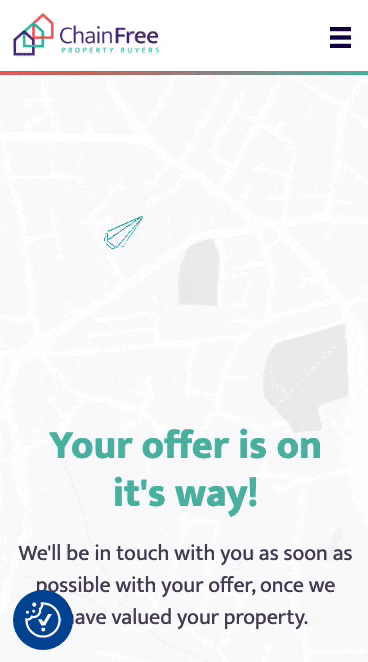 Automated postcode look-up enquiry system for leading Halesowen property buyer.
We created them a simple but effective logo to start off the brand with the idea of developing this further as the business grew. We then jumped straight into designing the website.
The main piece of functionality for Chain Free was going to be a 2 step process, with as little input from the user as possible, to ensure maximum conversions. The first step was to create the postcode look-up functionality. We utilised a platform called Ideal Postcodes to access their database and form integration using an API. Once the user had selected their address from the drop down, they would click the button to take them to the next page.
Full address then displayed with automated map to give visual confirmation.
We then created a custom function in order to pull through the previous form's user inputs which would then display on the enquiry page automatically. We then reduced the final form down to the absolute essentials to make it nice and easy for the user to finalise their offer enquiry.

The enquiry is sent. Now they just wait for their offer to come through.
A fun and simple thank you page with a short GIF. These little details add to the professionalism and friendliness of Chain Free. The enquiry is automatically sent to their inbox, and it is now over to them to do what they do best and convert the lead into a sale!
A highly-converting website. Now time to get the leads in.
The website launched and they loved it! Being a brand new website, it now needed to get out to the people who needed it. This is where our marketing team came in. Chain Free utilised multiple services: SEO, Google Ads & Content Writing, in order to refine their copy and push their name out to the masses. They are already thriving and are so glad they took the leap to separate this part of their business into a separate company.
Platforms & plugins we used:
After the first 3 months compared to doing it within original business:
increase in conversion rate
more properties purchased
Want a new website of your own or want to get to page one of Google?